Welcome!  Here are Your Sandbox Instructions
Keep this page open and refer to it or print it out as you experience your Ascend Math Sandbox demo
THINGS TO KNOW BEFORE STARTING
Ascend Math's adaptive assessments determine each student's functional grade level and mastery gaps in that level.

The student in this Sandbox Demo has demonstrated mastery in the foundational skills preceding this objective
and therefore is prepared to begin this learning objective.
BEGIN THE TEACHER EXPERIENCE
School Name:       Sandbox
User Name:          Teacher
Password:            MyDemo
 Using the information above logon to the Ascend Math sample program at myascendmath.com
Explore the Teacher Dashboard. 

Click on any class name to open the Class Dashboard.  Explore.

Click on Live Student Tracker

This is a real time report showing the individual functioning grade level unit and objective being worked on by each student.  Click Objective to sort it by lesson to find students working on the same objective.
Continue to explore on your own or log off and move on to the Student Experience
BEGIN STUDENT EXPERIENCE
Your assigned student is:
David Fox
Currently working on Level 2 Skill Gaps
1. All students new to Ascend Math VIEW the STUDENT WALKTHROUGH  video. 
VIEW VIDEO
2.  Direct Link to Student Experience.  The "Climber" page will open. This is where David tracks his progress.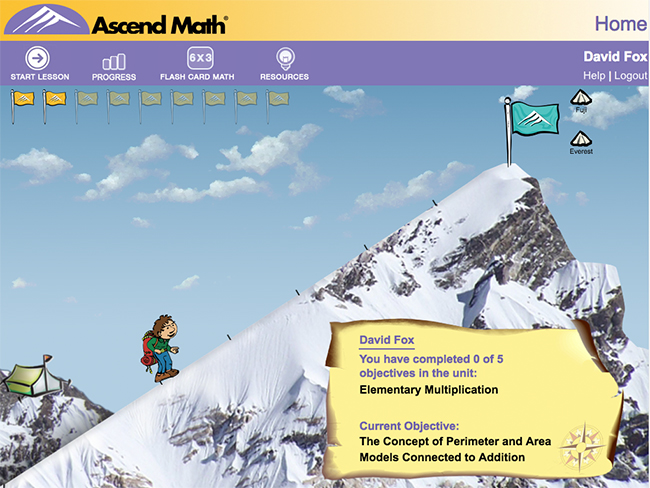 3.  Mouse over the flags at the top.  The highlighted flags are the units he has completed.  The shaded are flags are those he has yet to complete.  In the lower right corner is the lesson he will work on next.
4. Click Start Lesson
5. Click 1:  Study Guide. These are the problems the student will complete with the online instructor.    David will print this, but you don't have to.  Click the CLOSE button at the bottom of the Study Guide.
6. Click 2: VIDEO   Watch and interact when requested.
7. Click 3: EXPLORE   Have fun with the exploration.
8. Click 4: PRACTICE TEST   Take the test. Get a few wrong and check the help options on the left.
9. Click 5:  POST ASSESSMENT TEST
10. Continue to explore.
Contact us if you would like more information. 
Toll Free: 1-877-843-0277