Announcing the 2018 Gold Medal Honorees
Announcing the 2018 Gold Medal Honorees
37 GOLD MEDAL SCHOOLS AND DISTRICTS
This school year we saw the largest and most impressive group of Gold Medal schools yet. The 9,851 students in these 37 Gold Medal schools mastered 271,313 math objectives and worked 191,720 hours in Ascend Math.  Most students gained from 1 to 4 grade levels in math. Each school's implementation is unique and yet all have achieved tremendous strides toward fulfilling their ambitious goals. Success looks so different to each Gold Medal School.  We want you to hear it in their words.
Apache Elementary
Fort Stockton, TX
Submitted By Christina Barlow
Apache Elementary adopted Ascend Math to assist students that were having a difficult time in math and not excelling. "As students achieve levels, they are celebrated with a presentation of their certificates and presented with prizes."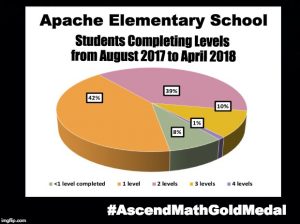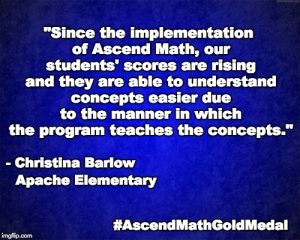 Clayton Valley
Charter High School
Concord, CA
Submitted By Kathleen Magana
Clayton Valley Charter High School uses Ascend Math with all populations including their before school program, Math Café, after school programs, a Saturday Bridge Program, and in class for SPED support courses, Credit Recovery, and Summer School.
Crosby Middle School
Crosby, TX
Submitted By Holli Pharis
Crosby Middle School adopted Ascend Math to address the needs of Tier 3 RTI students. "When the program is used with fidelity, significant results are seen in student growth."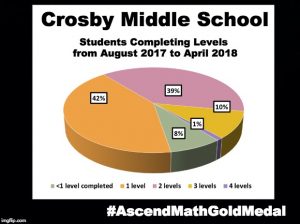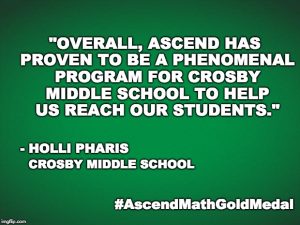 Dorchester County
Public Schools
Cambridge, MD
Submitted By Anna Howie
Educators at Dorchester County Public Schools improved their students' performance on the PARCC test by giving them an opportunity to close persisting gaps with the Ascend Math program. Ascend Math was selected because it created a personalized program for the students to work on areas that they needed to improve. The program offered Live Tracker, to assist teachers with monitoring their students' progress.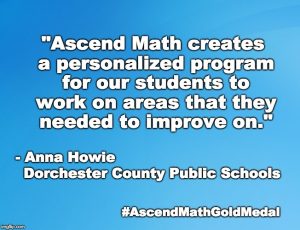 El Paso Leadership Academy
El Paso, TX
Submitted By Azereth Mendoza
At El Paso Leadership Academy "Ascend Math has helped every scholar individually by closing gaps that if not closed would hold them back grade levels and affect their academic standing once they attend High School and to the University."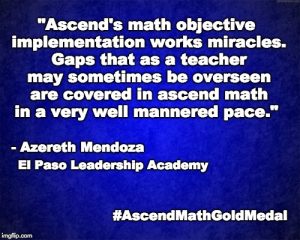 Falmouth Middle School
Falmouth, ME
Submitted By Donna Albury
Falmouth Middle School has adopted Ascend Math for several years. Educators have seen an increase in NWEA scores and stronger classroom performance because gaps and weaknesses in foundational concepts and skills are getting in their way less and less as they work on higher level math.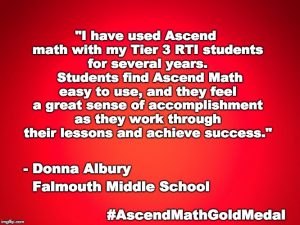 Frank O'Bannon
Elementary School
Hammond, IN
Submitted By Allison Lenzo
Educators at Frank O'Bannon Elementary School assign all of their 1st through 5th grade students who have been identified as High Ability math students to Ascend Math. Ascend students who meet the weekly goal of completing 75-90 minutes and passing at least 3 objectives receive recognition during the morning announcements and earn a reward ticket.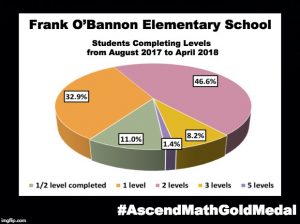 George I Sanchez
Charter School
Houston, TX
Submitted By Lisa Ratcliff
George I Sanchez Charter School uses Ascend Math to reteach and reinforce math concepts that students have previously struggled with in prior classes. This allows core math instructors to focus on their grade level content while at the same time ensuring that each individual student's weaknesses are addressed. This approach has already shown positve results.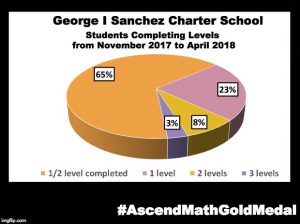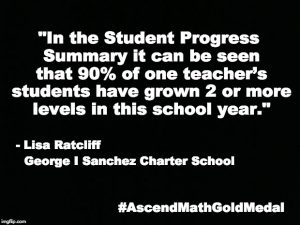 Giddings Intermediate School
Giddings, TX
Submitted By Sarah Borowicz
Giddings Intermediate School uses Ascend Math with their inclusion and resource students as well as for RTI and state assessment accelerated instruction.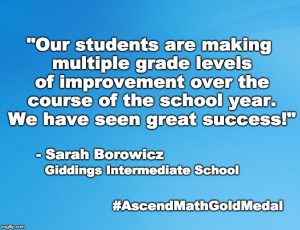 Hoosier Academies
Network of Schools
Indianapolis, IN
Submitted By Dana Smith
Educators at Hoosier Academies Network of Schools review monthly Ascend Math Activity Reports to measure progress and outcomes. Tier 2/Tier 3, High Ability, Special Education, and English Language Learners all have access to Ascend Math.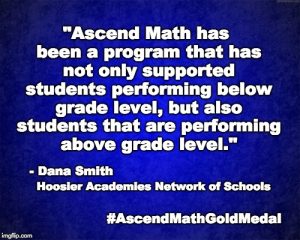 Husky Academy
St. Louis, MO
Submitted By Megan Steward
Husky Academy educators utilize Ascend Math within their suspension program and students have gained confidence in themselves to Ascend in Math. Ascend Math supports their multi-grade level classrooms and helps those who are struggling with content.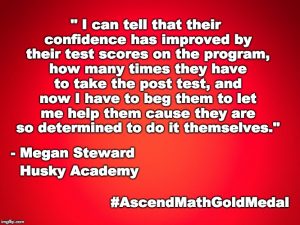 Johnsburg Elementary School
Johnsburg, IL
Submitted By Sherry Kegel
Johnsburg Elementary School students have seen 2 to 3 level growths within 6 months using Ascend Math. "Ascend has made a huge impact on our students math scores. The majority of the students math MAPS scores improved to low achievement with high gain in improvement."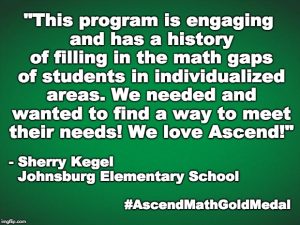 Joseph Hess Elementary
Hammond, IN
Submitted By Erica Robinson
Educators at Joseph Hess Elementary utilize Ascend Math for high ability, RTI and Special Education. "The average gain for our high ability students is 51.6% this year!"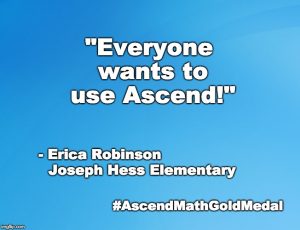 Kandy Stripe Academy
Houston, TX
Submitted By Pamela Johnson
Students utilized Ascend Math during their designated lab time. Students are encouraged to use Ascend Math at home using any device with an internet connection. Students are working at their own pace filling in gaps and accelerating learning above grade level. One 5th grader is working at a 7th grade level and loves Ascend Math. Math is her favorite subject.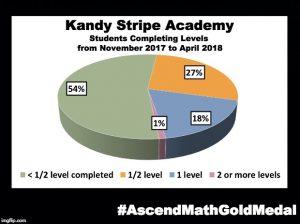 Lakeside Christian School
Clearwater, FL
Submitted By John Keller
Educators at Lakeside Christian School assigned Ascend Math to RTI students to provide the leveled support each student needs to successfully navigate state standards and college and career readiness expectations.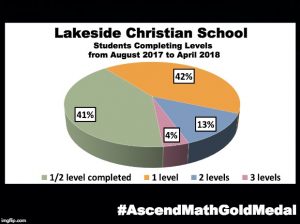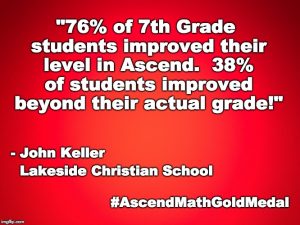 Lakeview Middle School
Rossville, GA
Submitted By Michele Privett & Emily Arnold
Lakeview Middle School has implemented Ascend Math school wide for Tier 2 remediation, as well as Tier 3 intervention in Math workshops. Lakeview Middle School is also using Ascend in their resource and co-teaching classrooms. Educators are seeing a boost in their students' confidence and an increase of 1-2 letter grades on grade reports as students are developing a better understanding of their math concepts and objectives.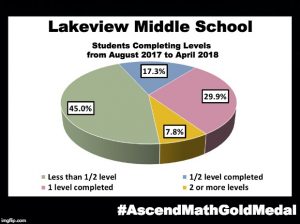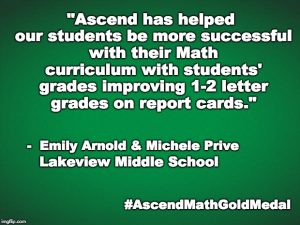 Lansdowne Middle School
Baltimore, MD
Submitted By Hilary Frankle
Lansdowne Middle School adopted Ascend Math to assist students in learning, re-learning, or practicing important pre-requisite math skills that are necessary for students to be successful in their current math classes.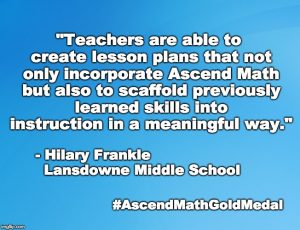 Lowell Middle School
Lowell, IN
Submitted By Tracy Kohler
Lowell Middle school has implemented Ascend Math as an RTI program. 65% of the students in Ascend have improved two or more grade levels. 40% of those actually improved three levels or more, one student achieved an improvement of five levels.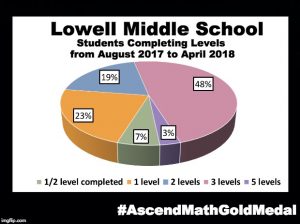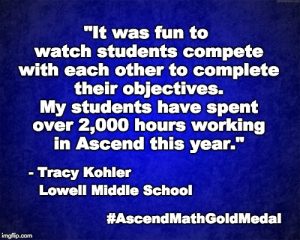 M.C. Williams Middle School
Houston, TX
Submitted By Twyla Joseph
M.C. Williams Middle School implemented Ascend Math to support scaffolding instruction for both station rotation and whole group instruction. Students utilize Ascend weekly in some classes and daily in intervention classes for students that were not successful on the state STAAR assessments.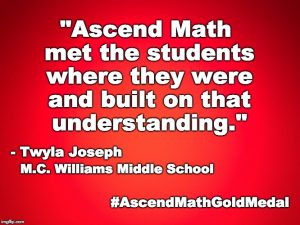 Manhattan Adult Learning Center
Manhattan, KS
Submitted By Vickie Fix-Turkowski
Manhattan Ogden implemented Ascend Math at the Adult Learning Center where they have seen great results. They have expanded into two middle schools and a high school where students are making gains on their NWEA map Scores.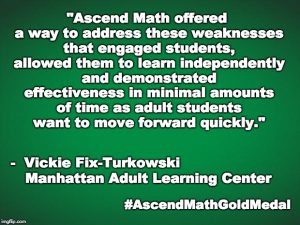 Marion P Thomas Charter School District
Newark, NJ
Submitted By Susan Confrancisco
Marion P Thomas Charter School District adopted Ascend Math to prepare for PARCC. The district's math director has observed students making significant progress in passing objectives.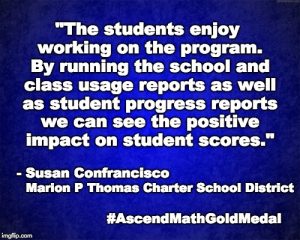 Mercer Schools
Mercer, WI
Submitted By Brent Wambold
Past Gold Medalist Mercer Schools are seeing energized students that are seeking extra time to work on their weaknesses and achievements in Ascend Math.
Northeast High School
Macon, GA
Submitted By Shawnder Worthington
Northeast High School adopted Ascend Math as a study skills intervention during the school day with the most at-risk students. One teacher provides a blended learning model of instruction to fifteen students during each class period. 80% of students have completed at least one level. One student has grown 6 levels.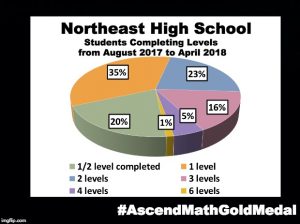 Oak Forest Elementary
Vidor, TX
Submitted By Shannon DeVillier
Ascend Math is used as a tool for tier 3 RTI intervention at Oak Forest Elementary School. Ascend, in combination with small group instruction has helped many students fill gaps that had previously caused their learning to stall.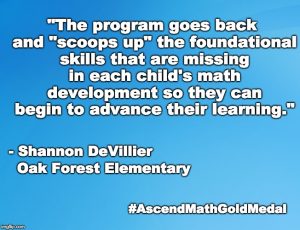 Pike-Delta-York Middle School
Delta, OH
Submitted By Jon Mignin
Pike-Delta-York Middle School implemented Ascend Math to close math skill gaps resulting in grade level growth and thereby improving State Test Results.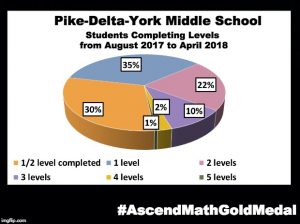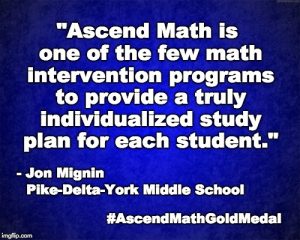 Pine Forest Elementary
Vidor, TX
Submitted By Darla Marino
Pine Forest Elementary adopted Ascend Math for their Tier 3 students who attend RTI classes. Their students use Ascend Math three to four times a week along with classroom instruction. "We adopted Ascend because we needed a strong intervention strategy to help our seriously struggling students …With Ascend, those students can get the practice they need to master prerequisite skills they need to be successful."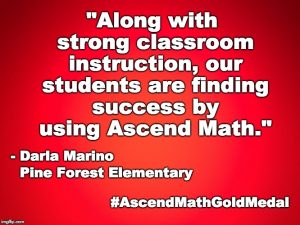 St. William Catholic School
Walled Lake, MI
Submitted By Linda Jackson
In this tech-savvy world, St. William is using Ascend Math in place of the traditional textbook which allows students to work at home and school.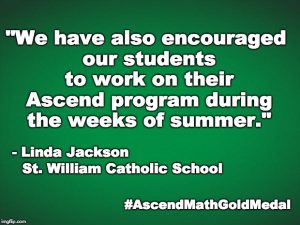 Stephen F. Austin
Elementary School
Dayton, TX
Submitted By Krystal Rogers
The use of Ascend Math at Stephen F. Austin Elementary School in conjunction with mini lessons has allowed students to grow 1-3 grade levels in a short period of time.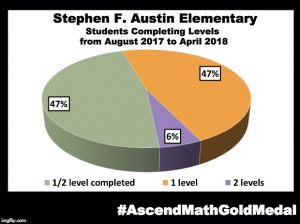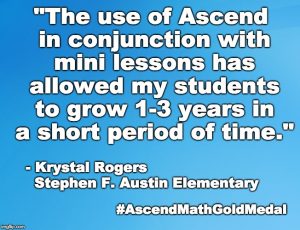 Swanton Middle School
Swanton, OH
Submitted By Matthew Smith
Swanton Middle School adopted Ascend Math to assist with student growth and as a large part of their Math Curriculum. "We have each student complete 3 lessons per week and we have a reward program for students who achieve more than the expectation. It is a fantastic supplemental tool to reinforce objectives and learning goals in all grade levels 5th through 8th."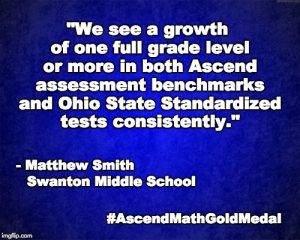 Sweeny Elementary School
Sweeny, TX
Submitted By Leah Liserio
At Sweeny Elementary School the Ascend Math program is used for RTI students. Ascend Math is also used as a student progress tracking and data collection system to ensure mastery within students' RTI plans.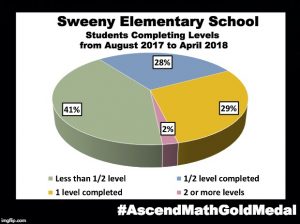 Sweeny Junior High School
Sweeny, TX
Submitted By Heather Raynor
Sweeny Junior High School uses Ascend Math as differentiated remediation in their Power Up Math class. Their students were able to complete an average of 2 objectives per hour. More than half of students have progressed at least 1 grade level.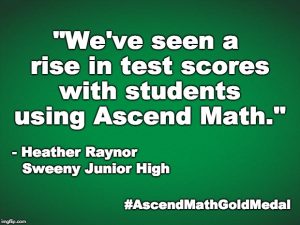 Tulsa Legacy Charter School Upper Academy
Tulsa, Ok
Submitted By Kaye Quarterman
Tulsa Legacy Charter School Upper Academy adopted Ascend Math to remediate and close foundational skill gaps. "In Semester 1, We have seen an average 14% increase in student performance across grades 5th-8th using Ascend."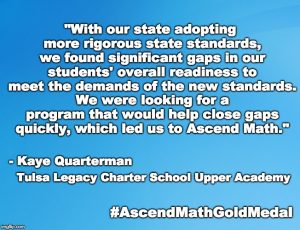 Vidor Elementary School
Vidor, TX
Submitted By Johnna Neil
Vidor Elementary School adopted Ascend Math to help Tier 3 students fill in their missing math gaps. Students were placed in small group intervention for 30 minutes a day to find these gaps and are now using Ascend during the 30 minutes to fill these gaps.
Walatowa High
Charter School
Jemez Pueblo, NM
Submitted By Arrow Wilkinson
Walatowa Charter High School uses Ascend Math for college and career readiness. "Ascend Math provides a solution for identifying and reviewing skills in an accelerated format." 74% of students completed one level or more in 6 months. Overall, students have completed over 1,370 objectives in more than 750 hours of work.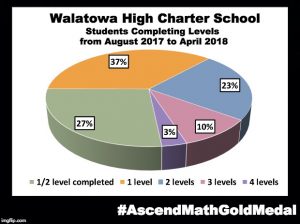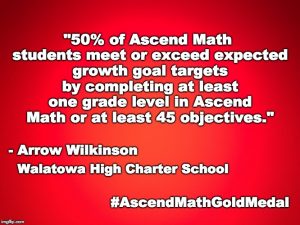 Weeki Wachee High School
Weeki Wachee, FL
Submitted By Kirsten Mihok
Weeki Wachee High School has implemented Ascend Math with their special education students. The content in the Ascend Math program is written for students at the high school level yet instructs students at their independent tested level. "It seems like a win-win situation now that my students have the routine down…"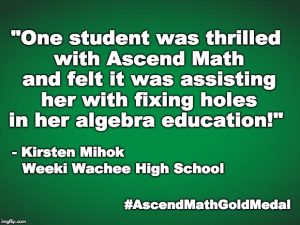 William S. Holland
Middle School
Houston, TX
Submitted By Samyra Rogers
William S. Holland Middle School educators have seen students' math skills grow significantly over a short period of time. The program serves as a method through which teachers can differentiate instruction so that students can close below grade level gaps while still allowing for instructional time with the teacher on the actual grade level. "Using Ascend to differentiate means less planning and preparation for our teachers."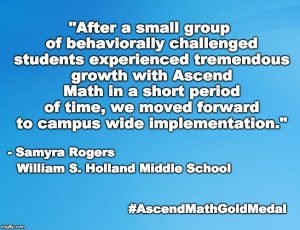 Woodrow Wilson Junior High
Dayton, TX
Submitted By Sara Sexton
Woodrow Wilson Junior High adopted Ascend Math as an elective class to assist students in their regular math class. "These students work in Ascend to fill gaps so that they can be successful in their current grade level. Ascend is personalized to the student and allows for us to fill the gaps that the changes in curriculum might have caused."